Main content starts here, tab to start navigating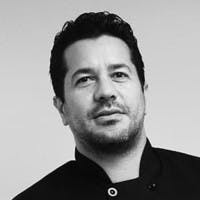 Chef Giancarlo Borletti
Executive Chef
Born in Lima, Peru, Chef Giancarlo Borletti was enticed by the alluring aromas that lead to Mercado de Miroflores, the famous farmers' market where his Italian father taught him everything he knew about food and its origins. With not just six varieties of potatoes, but hundreds from which to choose, Giancarlo would shop, then return home to read, prepare and taste. Hugo Borletti was utterly passionate about his native-Italian cuisine; Chef Borletti vividly remembers his father's authentic Bolognese sauce prepared with farm-fresh tomatoes—nothing ever from a can. Such early skills have carried over masterfully as Chef Borletti stirs up his next culinary adventure in creating and offering a global touch to complement The Mindful Café's wellness inspired menu. Chef Borletti's passion for clean, organic food is what inspired him to join The Mindful Café.
Early influences linger, like the fact that Peru has a large Asian community. Early on, Giancarlo became fascinated with the food subcultures of Chinese Chifa and Japanese Nikkei. Both are cuisines of early settlers who enhanced their own Asian recipes with South American ingredients. It's a cuisine that Chef Borletti continues to prepare and serve lovingly. Peru boasts some of the finest peppers on earth and you may discover each in an assortment of unique and incredible Peruvian recipes. Aji, being the Spanish word for chili pepper, one of his favorite ingredients is aji amarillo, a yellow Peruvian pepper offering a unique flavor with a lot of fruitiness more full-bodied and a lot more subtle. Another favorite is aji panca, a dark red color with a mild, fruity taste never overwhelming other flavors in any dish. He enjoys adapting both, each drawing from their unique flavor while downplaying any heat aspect.
Inspirational in the creation of recipes and menus, Chef Borletti knows how to mix seasonal ingredients while adapting the celebrated flavors of South America, Italy, France, reaching even farther across the globe to China and Japan. Studying and graduating in Peru at Cenfotur/Centro de Formacion Hospitalaria, he soon came to the United States where for the past 12 years, he has worked in restaurants in Greater New York. Included are the popular farm to table Masso, and across to Flatiron's American brasserie, Alison Eighteen, then on to New Jersey's attractive Osteria la Fiamma and the rustic Italian eatery, Piccolo Bistro, in Ridgewood, as well as an Executive Chef position at Bergen County's beloved Dog & Cask. Chef Borletti was most recently managing Iron Chef Jose Garces's restaurant at Newark Liberty International Airport, serving travelers from around the world.
Giancarlo Borletti makes Bloomfield, NJ, his home with his lovely wife and two daughters. He quite naturally enjoys quality time with his family the most, living but a few blocks from beautiful Brookdale Park. Beyond home life, he has advanced to a brown belt in Brazilian jiujitsu, and trains with others any spare moment he may find.